Our Victories
See how we've helped our past clients
Georgia Workers' Compensation Lawyers
Atlanta Workers' Comp Lawyers with over 50 Years' Collective Experience
After you've been injured on the job, it is only fair that your employer covers your medical expenses and time off. Typically, your employer works with their insurance company to ensure you receive enough benefits. Workers' compensation is available to employees to help provide financial support during an injured workers' recovery process.
Read More Denial rates have increased over the years, making it more difficult for workers who are in serious need of financial help while injured. When you are denied benefits, an Atlanta workers' compensation lawyer at HansfordMcDaniel can help. The expert workers' compensation attorneys at HansfordMcDaniel review workers' compensation claims to look for errors and issues with your claim and zealously represent you. Additionally, if you were denied benefits despite your workplace accident injury, they will represent you before the appeal board. For more information, speak to reliable workers' compensation attorneys. Contact HansfordMcDaniel Law Firm now for a free consultation. Read Less
What Our Clients Say
"Nate and team run a top shelf operation! Compared several, nothing compares."
-Derek Anderson
"Highly recommended for anyone injured. My first experience with an attorney. I had no idea what to expect. Now, after a year Nate and the entire support staff feel like family! I'm so glad I chose the Hansford McDaniel Law Firm!"
-Ken L
"I was very happy with the time frame and the service, couldn't have asked for any better. 5 stars!"
-Jimmy W
"You can trust Nate Hansford for your Worker's Compensation needs. I refer my injury clients to Nate for Worker's Comp. claims while I work on our clients third-party claims against negligent defendants. My clients are in good hands with Nate."
-Blade Thompson (BLADE INJURY LAW)
"[My attorneys] were always a call away to answer any questions I had about my case. Thank you for your support during the most painful times, you were patient and available when needed."
-Leslie B
"My experience at Hansford McDaniel Law Firm was a good one. My case was unusual and complicated in my opinion, but they helped me out when I had no one else to turn to. My results were better than I expected and I am very happy with the outcome. I would highly recommend [my attorney] at the Hansford McDaniel Law Firm to anyone I know that may have the same situation arise."
-Christopher M
"Attorney Wesley Burton McDaniel is the best Attorney I have ever seen in long time. I have talked with many attorneys; none can compare to him. He took out time to listen to me and my wife, not only that, but he also sees us as human, which I notice many people doesn't do. He even thinks about my future, wanted to know what our next plan will be as result of the accident. He is very approachable."
-Former Client
"Thank you Gloria and Elizabeth for all the professional help. You guys served justice cause it wasn't fair that this happened to me. I'm still suffering jaw problems. Thanks again and I highly recommend you guys. I'll get the word out. Thank you so much"
-Former Client
"I have been most fortunate and pleased with the way Dulce has responded to my inquiries about my case. She is prompt and helpful. I am sure she will be a great asset to you and your firm. You should be happy to have her aboard."
-Former Client
"The challenge was very trying, but you guys made it pleasant with your patience and reassurance. Thank you so much and I pray that your Holiday season begins with joy and prosperity."
-B. Haywood
"Team run a top shelf operation!"
"After a year Nate and the entire support staff feel like family!"
"5 stars!"
"My clients are in good hands with Nate."
" Thank you for your support during the most painful times,"
"I am very happy with the outcome"
"He is very approachable."
"I'll get the word out. Thank you so much"
"I have been most fortunate and pleased with the way Dulce has responded"
"Thank you so much and I pray that your Holiday season "
Who We Are
Our legal team at Hansford McDaniel, LLC, is more than just a group of lawyers – we are a community of workers' advocates in Georgia. Our empathy for our clients fuels our relentless pursuit of justice, and we won't rest until we achieve the maximum possible workers' compensation for every injured worker we represent. Contact us to schedule your free and confidential consultation with an experienced Atlanta workers' compensation attorney today.
Champions Of Injured Workers' Rights
As workers' compensation attorneys in Georgia, we are laser-focused on one thing: fighting for the rights of workers injured on the job. We have spent years mastering the intricacies of workers' compensation law in Georgia, and have represented clients from all corners of the industry:
Factory workers in manufacturing facilities
Construction workers
Home improvement contractors

Carpenters, electricians, plumbers, HVAC technicians, roofers, landscapers, kitchen and bath remodelers, garage door installers, architects, interior designers, and more

Restaurant Workers

Managers, chefs, line cooks, dishwashers, servers, bartenders, bussers, and more

Law enforcement
Healthcare
EMTs and paramedics
Firefighters
Janitors and building maintenance staff
Part-time employees
Our dream team of Atlanta workers' compensation lawyers, led by Nathaniel F. Hansford and Wesley McDaniel, has been recognized as Super Lawyers® Rising Stars℠ members. We have also earned a 10.0 Superb Avvo rating. They each bring an unparalleled level of expertise and dedication to our firm, inspiring us to strive for excellence in everything we do.

Mr. Hansford is a true trailblazer in workers' compensation law, having more than 20 years of experience helping clients secure millions of dollars in settlements. His unique background as a former insurance defense attorney gives him valuable insights into the tricks used by insurance companies. Mr. Hansford is a frequent lecturer on workers' compensation issues, and his passion for helping injured workers extends beyond the courtroom into the community. .. Read More Mr. McDaniel is another superstar lawyer on our team, bringing his legal skills to the table. As a former insurance defense attorney, he knows the tactics used by insurers and uses his experience to craft compelling cases on behalf of his clients. In less than five years with our firm, he has recovered over $26,000,000 for his clients.

Our team of tenacious workers' comp attorneys is a force to be reckoned with. We take the time to truly understand each case, and develop a unique strategy that fits our clients' needs. Our attorneys also dedicate their time and resources to charitable organizations that make a difference in the Atlanta community. Read Less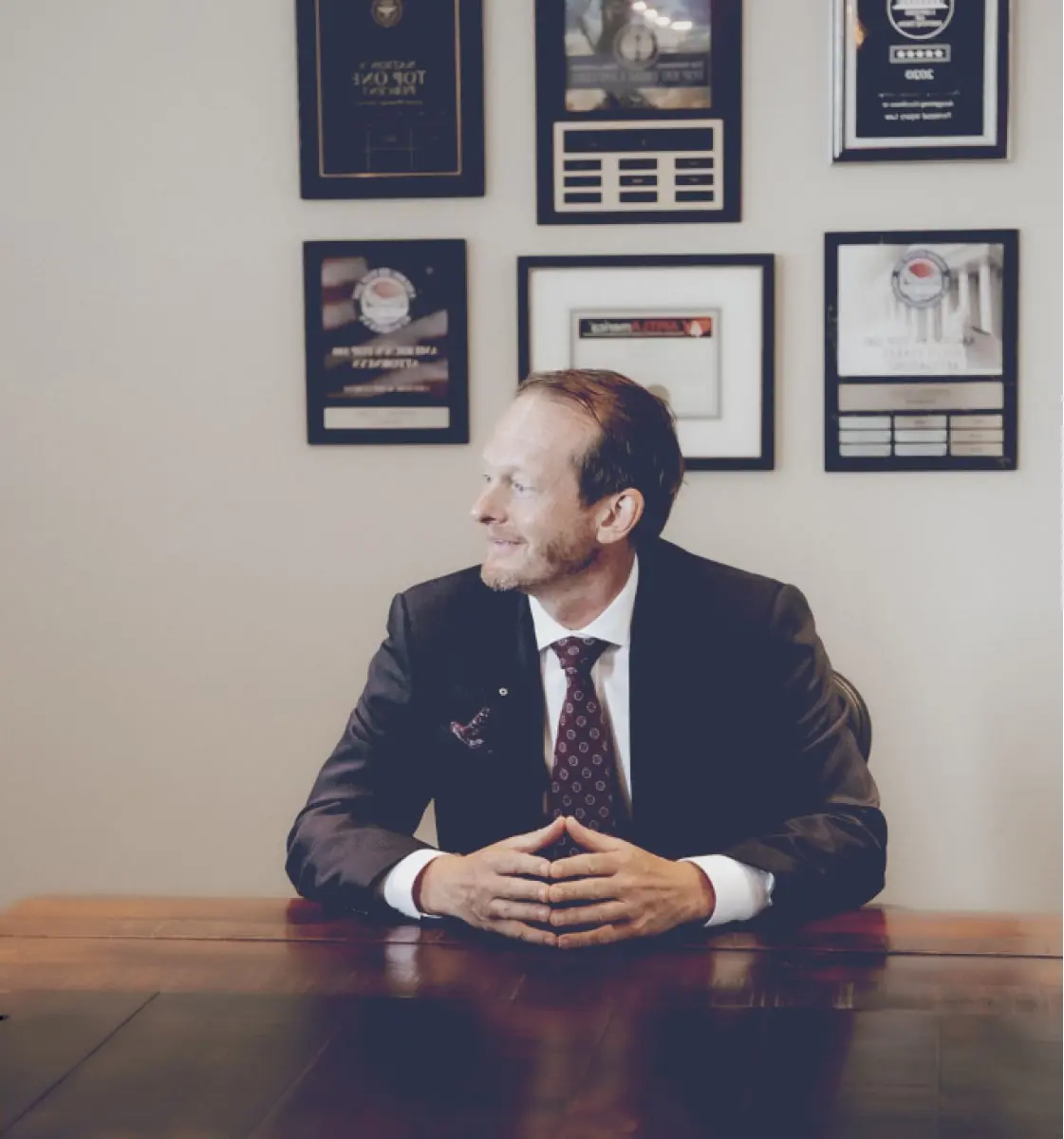 What Percentage Does A Georgia Workers' Compensation Lawyer Get?
According to Georgia workers' compensation law, "the fee of an attorney for services to a claimant in an amount of more than $100.00 shall be subject to the approval of the board, and no attorney shall be entitled to collect any fee or gratuity in excess of $100.00 without the approval of the board. The board shall approve no fee of an attorney for services to a claimant in excess of 25 percent of the claimant's award of weekly benefits or settlement.
How Long Does It Take To Settle A Workers' Comp Case In Georgia?
Every workers' comp claim is unique, which means that it can take several weeks or a few months to settle your case. There are two types of settlements: the liability settlement and the non-liability settlement.
When your company's insurer compensates you for your injury, this is a liability settlement. You are awarded the settlement with no argument about your accidental injury.
A non-liability settlement is more complex because your accidental injury will be in dispute during this process. Both liability and non-liability settlements will require an Atlanta workers' compensation lawyer to make sure your paperwork is organized. They will ensure there are no errors and that all the necessary proof is evident, so your claim is undeniable.
The insurance company will initially review your claim. This investigation process will be straightforward if the reason for the injury is clear. Additionally, if there is enough supportive evidence, the insurer can't contest that the injury occurred on the job. However, in a more complex situation where it is difficult to define how the injury occurred, the process can take longer. For example, you could have been injured because of poorly maintained machinery that wasn't inspected. The insurance adjuster will have to work with other professionals to identify how it malfunctioned and caused your injuries.
If you slipped and fell on a slippery surface with no grips installed, that would be a much simpler insurance claim. Another issue is the type of injury and medical treatment required. If you simply needed pain medication, bandages, and a week off, you would get your claim much sooner. In comparison, if you have a permanent disability that prevents you from returning to your line of work, you would not only need additional benefits but would have to switch careers. You would need to wait a longer time to receive compensation from the insurance company to help facilitate this process.
Can You Sue Your Employer For Negligence In GA?
Workers' compensation claims don't involve you suing your employer. The workers' compensation system was designed to prevent that. Proof of negligence is also not necessary for you to get maximum compensation from your Georgia workers' compensation claim, unlike in other states.
What is the exclusive remedy doctrine?
In Georgia, the O.C.G.A. § 34-9-11 law mandates that you have a right to obtain workers' compensation benefits regardless of who is at fault. As long as you were injured while at your workplace, you can be compensated. This doctrine doesn't apply in the following scenarios:
If your workplace injuries were caused by reckless behavior, then you may be denied your workers' compensation claim. For example, if you were playing with the equipment, fighting, or doing other grossly negligent actions, this can result in denial.
You should not be drunk at work for any reason. If you are intoxicated, it may have made it easier for you to get injured. For this reason, you might be denied compensation for your workplace accident.
Illicit drugs are illegal and shouldn't be allowed at work because they can reduce the ability to concentrate. If substance abuse caused your accident, you could be denied benefits.
Other reasons you might be denied are if you were trying to steal or break into a secure area at your job. If you were injured while engaging in criminal activity, you wouldn't be able to receive workers' compensation benefits.
What are other reasons I could be denied?
Many victims of workplace injuries get their workers' comp benefits denied despite their needs. Georgia workers' compensation lawyers try to help prevent this by making sure your application has all the required information. Reasons that you may be initially denied include the following:
If you were already injured for another reason, you can't recover compensation from your employer's insurance company. This doesn't include underlying conditions that your work environment may have aggravated or worsened.
As soon as you have been injured, you should see a doctor so that they can treat your injuries. Your medical bills are also evidence, which is another reason you should get treated as soon as possible. If you have no medical evidence of your injury, you may be unable to recover compensation.
Legally, an injury is when you have suffered harm done by another, in this case, your employer. If you suffered no harm or damage, then you haven't experienced an injury.
Your employers' insurance company can respond with a
reservation of rights
, and your claim will be decided after a pending investigation. In this case, they send a notification that you may not receive compensation because your employer's insurer does not cover the type of claim. The insurance company would have to substantiate your claim by performing an investigation. If the insurer finds that your damages are unsubstantiated, then they can later deny coverage.
You cannot receive compensation unless your injury is related to your work. For example, if you have a health condition or other situation happening not caused by work, you cannot be compensated for work-related stress benefits.
Misrepresentation is a form of fraud when an employee lies about their work-related injury. They may try to make an injury that didn't happen at their job appear work-related to receive benefits.
Filing too late will also hurt your chances of receiving benefits. You only have
a year
from the date of your reported injury to file your claim. Additionally, your employer's insurer has 21 days to investigate the injury and file a report after you were injured.
If you were not employed by the organization where you were injured, you may also be denied workers' compensation. This applies to independent contractors, sole proprietors, and other types of self-employed businesses. Otherwise, you would file a personal injury claim.
When your injury has an unknown cause or can't be explained, you can also be denied benefits. This is because your injury might have nothing to do with your employer. If it is difficult to discover whether you were injured due to your workplace environment or activities, then you'll be ineligible for workers' comp.
What if a third party's negligence caused the accident?
Our Atlanta workers' compensation attorneys work closely with best personal injury attorneys throughout Georgia to help you file a negligence claim. An example is if you were being paid to transport goods for your employer and got into a car wreck. You can file a third-party claim against the at-fault driver in addition to your workers' compensation claim.
How Much Will My Weekly Benefits Be?
You can receive two-thirds of your average weekly wages up to a maximum of $800 per week. Other compensation includes any reasonable medical bills related to your injuries. You can even receive mileage reimbursement for the cost of your commute to and from doctor's appointments. However, there is a 400-week limit on receipt of medical benefits. The only exception is if your injury is considered to be catastrophic according to state laws.
Other benefits you can receive through the workers' compensation system include:
If you cannot work to your fullest capacity because of your recent injury, you can continue receiving temporary partial disability benefits
after you return to work
. This benefit includes two-thirds of the difference between your average weekly wages before and after your injury. There is a $483 maximum limit on how much you can receive on a weekly basis. Additionally, you will stop receiving benefits after 350 weeks from the date of your injury.
If you can't work for more than seven days because of your injury, you will start receiving
benefits
. If you were incapacitated for 21 days after your injury, you can also be compensated for those seven days you were unable to work. This amount is equal to two-thirds of your average weekly wage, but only if your accident occurred after July 1st, 2023. You can't receive more than $800.00 or less than $50 per week after you were injured. After 400 weeks, you can't continue receiving temporary disability payments unless you had a catastrophic injury.
If you've reached maximum medical improvement (MMI) according to your doctor's evaluation but continue to suffer from a partial disability, you may continue receiving weekly payments. Based on your type of disability, you can receive an additional benefit. The benefit duration depends on the percentage of disability of the affected body part. This percentage is multiplied by the maximum amount of weeks listed on the state schedule for that body part.
Suppose an employee died because of a job-related injury or occupational illness. In that case, their dependents, eligible family members, or individuals listed in their will are entitled to their death benefits. If the survivors are dependents, then they receive the same amount for total temporary disability until they are no longer dependent. Spouses receive an amount up to $290,000. Funeral expenses can also be covered for up to $7,500.
Our Locations
At Hansford McDaniel LLC, we proudly represent clients from all over Georgia and throughout Alabama.
Get In Touch
Write us a message and we will get back to you at our earliest convenience. Have a great day!
Hansford McDaniel, LLC
1718 Peachtree Street NW, Suite 660
Atlanta, GA 30309
Consult a Georgia Workers' Compensation Lawyer of Hansford McDaniel
Reach out to our workers' compensation lawyers so you can get the help you need. A large number of employees are denied workers' compensation for reasons unknown to them. Our Georgia workers' compensation lawyers can review your case and make sure all the evidence and requested information match up. Call Hansford McDaniel, LLC, now for a free consultation.