Atlanta Workers' Compensation Lawyers with 45+ Years' Collective Experience
Getting injured on the job can be an overwhelming experience. You may worry about how you cover the medical expenses, pay your bills, or simply put food on the table. While workers' compensation is available for injured workers, most people aren't sure how to navigate the process. Hansford McDaniel LLC recognizes this need, bringing together a team of skilled Atlanta workers' compensation attorneys to provide the counsel and guidance clients need in the area.
Though our law firm is based in Atlanta, we serve clients across Georgia and throughout Alabama. We have locations in Athens, Savannah, Macon, Marietta, Columbus, and beyond.
What Makes Our Firm Stand Out?
There are plenty of law firms to choose from when it comes to legal representation. How do you know which firm is right for your case? First, Hansford McDaniel LLC solely focuses on handling workers' compensation cases—we know this area of law like the back of our hands.
Our firm stands out in the following ways:
45+ years of collective legal experience
Secured numerous million-dollar results for clients
Attorney Hansford and McDaniel selected to Super Lawyers® Rising Stars℠ list
10.0 Superb Avvo rating
Bi-lingual, speaking English, Spanish
Have questions for our legal team? Call us today at (770) 741-2825 to set up a free consultation.
Advocating for the Rights of Injured Workers
At Hansford McDaniel LLC, we have the resources and experience to navigate these challenging and often complicated cases. Working in this field for many years, we know that even the best employers can often become uncooperative when dealing with workers' compensation insurance claims. We also know that workers should never have to carry the burden of medical bills and other expenses when their injuries were caused by another's negligence.
Whether you have suffered a catastrophic injury, hip injury after a slip and fall, or a stress injury due to repetitive work tasks, our Atlanta workers' compensation attorneys can guide you through this difficult time and ensure you are treated fairly by your employer and the insurance company.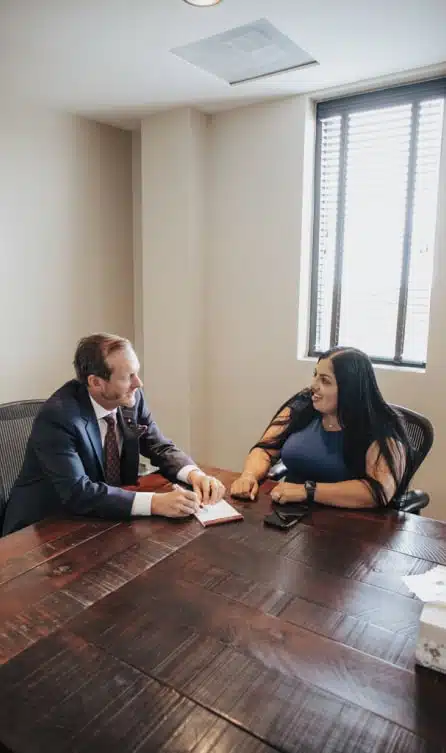 Request Your Free Consultation with Our Firm Today
Our firm proudly represents injured and disabled employees in workers compensation claims throughout Georgia. If you were hurt in a truck accident, construction site accident, or any other situation, Hansford McDaniel LLC is ready to advocate on your behalf.
Devoted to Workers' Compensation Cases
We understand that when clients and their families arrive at our office, they are facing a sudden and life-altering situation through no fault of their own. Our clients come from all walks of life, yet none are prepared for the traumatic changes that occur with catastrophic injuries or a wrongful death. Their families are under tremendous stress dealing with this new reality and are overwhelmed by the physical and emotional challenges of caring for their injured loved one.
While we can't fix injured bodies or prevent fatal mistakes, we are tireless in our commitment to helping clients find comfort, regain their dignity, and empower them to a new independence.
What Our Clients Say
"Nate and team run a top shelf operation! Compared several, nothing compares."
-Derek Anderson
"Highly recommended for anyone injured. My first experience with an attorney. I had no idea what to expect. Now, after a year Nate and the entire support staff feel like family! I'm so glad I chose the Hansford McDaniel Law Firm!"
-Ken L
"I was very happy with the time frame and the service, couldn't have asked for any better. 5 stars!"
-Jimmy W
"You can trust Nate Hansford for your Worker's Compensation needs. I refer my injury clients to Nate for Worker's Comp. claims while I work on our clients third-party claims against negligent defendants. My clients are in good hands with Nate."
-Blade Thompson (BLADE INJURY LAW)
"What a great guy. He was patient with me. Answed all my questions in a timely manner. Well with brain trama you are confused. And Nate made it really simple and understandable. Thanks to you and your crew I'll be closing on a house very soon."
-Sean Lemmond
"[My attorneys] were always a call away to answer any questions I had about my case. Thank you for your support during the most painful times, you were patient and available when needed."
-Leslie B
"My experience at Hansford McDaniel Law Firm was a good one. My case was unusual and complicated in my opinion, but they helped me out when I had no one else to turn to. My results were better than I expected and I am very happy with the outcome. I would highly recommend [my attorney] at the Hansford McDaniel Law Firm to anyone I know that may have the same situation arise."
-Christopher M
"Attorney Wesley Burton McDaniel is the best Attorney I have ever seen in long time. I have talked with many attorneys; none can compare to him. He took out time to listen to me and my wife, not only that, but he also sees us as human, which I notice many people doesn't do. He even thinks about my future, wanted to know what our next plan will be as result of the accident.He is very approachable."
-Former Client
"Thank you Gloria and Elizabeth for all the professional help. You guys served justice cause it wasn't fair that this happened to me. I'm still suffering jaw problems. Thanks again and I highly recommend you guys. I'll get the word out. Thank you so much"
-Former Client
"I have been most fortunate and pleased with the way Dulce has responded to my inquiries about my case. She is prompt and helpful. I am sure she will be a great asset to you and your firm. You should be happy to have her aboard."
-Former Client
"Team run a top shelf operation!"
"After a year Nate and the entire support staff feel like family!"
"5 stars!"
"My clients are in good hands with Nate."
"And Nate made it really simple and understandable."
""
""
""
""
""