When struggling with injuries, it is hard to keep track of all your medical bills and missing wages. You can fall behind on your finances and have a long list of household expenses to take care of. This is often the case for workers who get injured but don't receive the full amount of workers' compensation they are owed. In Georgia alone, out of the 8,674 claims filed, there were only 2,863 paid cases. Workers' compensation helps provide benefits in the form of lost wages, medical bills, and rehabilitation costs.
Injured workers can file workers' compensation claims if they get injured or sick while working. This is the case whether they are at the workplace location or traveling while on the job. Workers' compensation was created to provide injured workers with a way to receive benefits without the need to file a lawsuit or seek a settlement. If you were recently injured and need help filing your workers' compensation claim, speak to a reliable attorney. Instead of not knowing the next steps, your workers' compensation attorney can help you navigate the application or appeal process. Call Hansford McDaniel Law Firm now for a free consultation today.
Discover What Sets Us Apart: Your Trusted Atlanta Workers' Compensation Attorneys
When you get injured at the workplace, it's important to have a law firm on your side that truly cares about your well-being and works tirelessly to protect your workers' compensation rights. The Law Offices of Nathaniel F. Hansford, LLC is committed to pursuing the largest possible workers' compensation for injured workers in Atlanta, no matter how simple or complex the case may be.
Whether you face an unfair claim denial, are struggling with delayed benefits, or dealing with a complicated injury case, get in touch with our team to get you the compensation and support you need to move forward with confidence.
A proven track record
With over 45 years of collective legal experience, we are not just knowledgeable in Atlanta workers' compensation law – we are the pros. Our Atlanta workers' compensation lawyers have a proven record of successfully handling the following types of cases and more:
Clients who suffered amputations, severe burns, TBI, and other catastrophic injuries
Clients exposed to toxic chemicals in the workplace
Clients denied compensation due to pre-existing health conditions
Clients wrongfully terminated for filing a claim
Clients who were denied benefits or had their claims delayed or underpaid by their employers' insurance companies
Insurance companies taking a hostile stance against our clients, aggressively fighting their claims, and using questionable tactics to avoid paying out benefits
Insurance companies and employers retaliating against employees who filed claims or pressuring them to return to work before they were fully healed
Workers who lost their lives, leaving behind families with no financial support
In virtually every single case, we got our clients the justice and financial compensation they rightfully deserved. We have achieved multiple million-dollar outcomes for many of our clients and families we represented in Atlanta workers' compensation cases.
Our clients appreciate that we genuinely care about their future. But it's not just us saying that – our 10.0 Superb Avvo rating and the inclusion of our attorneys in the Super Lawyers® Rising Stars℠ list speak for themselves. When it comes to workers' compensation claims in Atlanta, we are the legal team you need.
Personalized attention and compassionate support
Considering the complexities of Georgia's workers' comp law, there is no one-size-fits-all solution. We know that every client's situation is different, so we take the time to understand your concerns. Then we gather information from various sources, like medical records, witness statements, and accident reports, and work with you to identify what your immediate and long-term needs are.
Based on the information gathered and our interactions with you, we will develop a legal strategy tailored to your needs. This could involve negotiating with insurance companies for medical and disability benefits, filing a claim in court, or pursuing alternative dispute resolution.
The ability to take on large insurance companies
Our managing partner, Attorney Nathaniel F. Hansford, brings a unique perspective to our team. He used to defend insurance companies against injury and workers' compensation claims, so he knows their tactics inside and out. Did you know that insurers often hire private investigators to conduct surveillance on injured workers, hoping to find something that would cast doubt on their claim? We know how to anticipate and counter the moves of insurance companies and have the skills and resources to take on powerful defendants to obtain the worker's comp benefits you're entitled to.
What percentage does a workers' comp attorney get in Georgia?
The State Board of Workers' Compensation in Georgia does not allow attorney fees to exceed 25% of the claimant's weekly benefits. The Georgia workers' compensation law states that the attorney's fee shouldn't go over 400 weeks of income benefits. If the attorney's fee exceeds $100, the board must review and approve this expense. Additionally, the board can suspend or terminate the attorney's fee at their discretion.
Can I sue my employer for psychological distress in Georgia?
You can file a work injury claim for psychological injuries. The stress you experience has to be directly caused by your work experience. Some examples include:
Mental Trauma
Combined Physical And Mental Injury
These are forms of emotional and mental stress caused by an experience or interaction at work. It could be because your injuries caused you pain and suffering, you experienced something traumatizing at work, or you were under so much pressure to perform that it affected your mental health.
Can you sue your employer for negligence in GA?
The Georgia workers' compensation process doesn't allow you to sue your employer for negligence. Georgia is one of the few states where you aren't required to prove negligence for workers' comp either. Your employer's workers' compensation insurance carrier uses workers' comp as a way to deliver monetary benefits without getting involved in the settlement or lawsuit process. Additionally, in Georgia, the law of exclusive remedy doctrine means you can receive compensation benefits regardless of who is at fault.
How long does it take to settle a workers comp case in Georgia?
After experiencing workplace accidents, injured employees can expect to receive their first payment between 30 to 60 days. The amount of time it takes to receive a check is entirely dependent upon the circumstances. If it is clear how you were injured and you have easily validated proof, you will receive it sooner.
However, if the reason for your injury requires additional investigations, it can take more time. There are two types of settlements: a no-liability agreement or a liability agreement. If your employer agrees to a liability stipulation, your employer admits that they are liable for paying your workers' compensation benefits. In a no-liability agreement, your company denies the responsibility but will pay you a specified amount.
After you've filed your workers' comp claim and your employer reported your injury, this is how the Georgia workers' comp settlement process works:
Sign the Settlement Agreement
Your employer's insurer will respond with a statement about your claim. You and your employer will have to sign the settlement agreement to resolve your claim. You can choose to receive money periodically or in a lump sum.
Provide Necessary Documents
In addition to a signed settlement agreement, you must also include the medical records of your injury, any forms that weren't filed, your attorney's fee agreement, and any unpaid child support information.
Approval By State Board Of Workers' Compensation
When the state board receives all of the necessary documentation, they will review the settlement agreement. Once approved, the settlement agreement becomes effective. Until the approval, you can still change your mind or cancel the settlement agreement.
Other Required Documents
Your employer's insurer may request additional documentation signed by you before your settlement can be finalized. Before you submit the documentation, your attorney can review it for you so that you are treated fairly. The insurance company may want a confidentiality agreement, general release, covenant not to appeal, and any information on Medicare or Social Security Disability funds.
Finalized Agreement
After the agreement is finalized, your first check will be issued to the agreed-upon amount or maximum limit. It can only be extended if you have catastrophic injuries.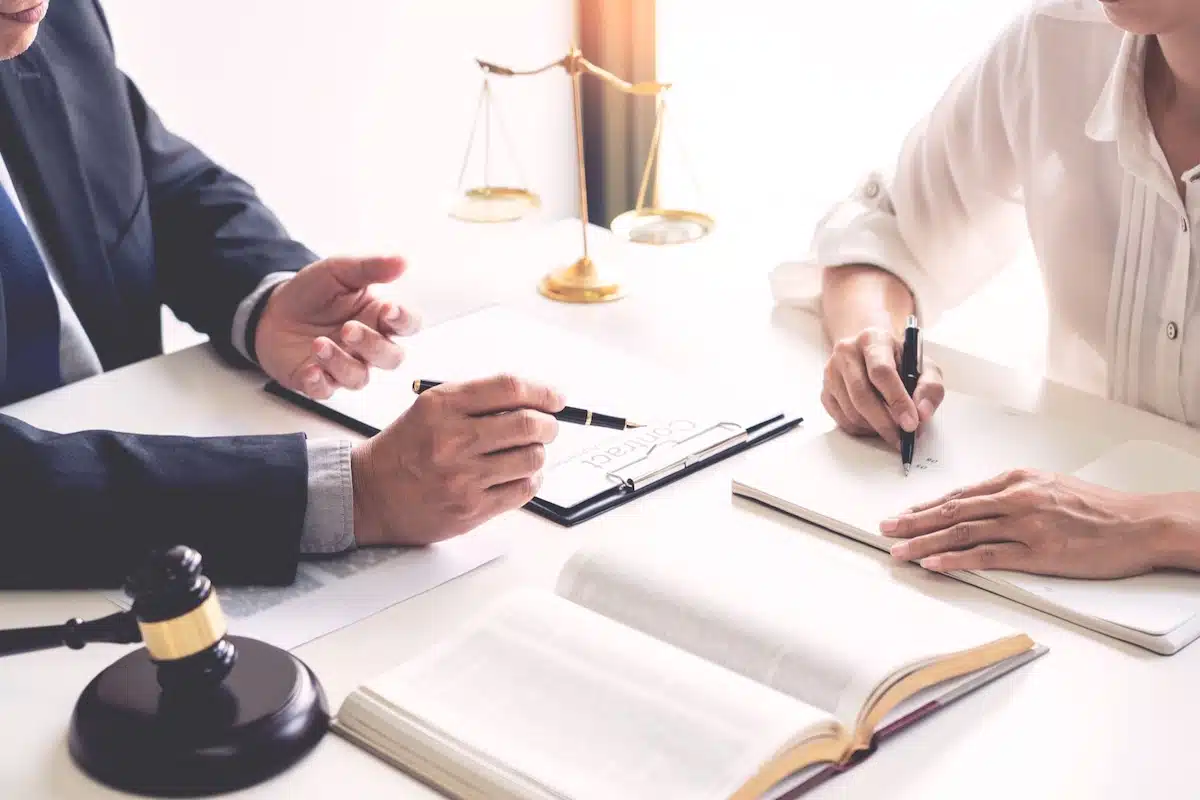 What Your Weekly Benefits Include
Workers' comp benefits help cover any required medical care that was needed to treat workplace accident injuries or illness. As long as your authorized physician provided the healthcare to take care of your injury, it will be covered under Georgia workers' compensation laws. Medical benefits can include surgery, physical therapy, prescription medicine, and other healthcare treatments.
There is a 400-week limit on the number of medical benefits you can receive from your employer's workers' compensation insurance company. The only way you can extend your benefits is if your injuries were catastrophic. If you have become disabled at your job, you may also be eligible for vocational rehabilitation services aimed at assisting you in finding new employment opportunities. Any lost wages are also covered by the workers' compensation system. Here is how you can be compensated on a weekly or lump-sum basis:
Temporary Partial Disability
For 350 weeks after the date of your injury, you can receive temporary partial disability benefits. This happens when you are injured so badly at work that you are unable to fulfill your normal role. If you continue to work but have reduced pay because you are doing less strenuous work, the benefits will still continue. The amount you are paid is two-thirds of the difference between your average weekly wages before your workplace accident and your newly adjusted weekly wages.
Temporary Total Disability

You will be eligible to receive Atlanta workers' compensation after seven days of being confined to your home because of your workplace injury. If you were debilitated for 21 days after your accident, you can also be compensated for the first seven days you missed. You will be paid two-thirds of your average weekly wage in an amount that doesn't exceed the $725.00 maximum or the $50 minimum.
If 400 weeks have passed and you still are dealing with some form of disability, you can continue to receive benefits. Your doctor will examine you to see if you have reached maximum medical improvement (MMI). If you reach MMI, your disability benefits will end. However, if you are still disabled then you will be considered a permanent partial or total disability claimant.
Permanent Partial Disability
Your weekly payments will continue as a scheduled or unscheduled disability reward. A scheduled injury is a disability that affects a body part that is on the state schedule. If your disability applies, the percentage of your disability is multiplied by the maximum amount of weeks on the state schedule. You will then be paid this reward on a weekly basis. If your body part isn't on the state schedule, you'll receive an unscheduled reward that is estimated based on your need.
Permanent Total Disability
When you have a permanent total disability, you can receive Atlanta workers' compensation benefits for the rest of your life. You can choose either a lump sum or weekly payments at the temporary total disability rate you had previously received.
Death Benefits
Sometimes injured employees experience a fatal workplace accident that leaves their family members and dependents devastated. If you are the survivor of a fatal workplace accident victim, you can receive their benefits on their behalf. Eligible individuals include spouses, dependents, and other eligible family members. Funeral and burial expenses can be covered for up to $7,500. The dependents can receive the same amount of total temporary disability until they are no longer dependent. Spouses are eligible to receive up to $270,000 in monetary benefits.
Common Errors Workers' Comp Applicants Make
It is easy to make mistakes before and after you begin to receive your workers' comp benefits. Errors you make before or during the workers' compensation claims process can result in a denied application or stop you from receiving additional benefits. Some ways that this can happen include the following:
Not Reporting The Accident
If you don't let your employer know that you were injured within the required time, this can result in you receiving no benefits at all. The workers' comp insurance company has to know what happened so they can investigate your claim. Waiting too long can make your injury seem less severe and also make it more difficult to find evidence. You shouldn't delay informing your employer of your workplace injury before it is too late.
Not Following Doctor's Orders
You must pay attention to your doctor's orders to fully recover from your injury. If you do not follow directions, it can cause your claim to be denied. For example, attending medical appointments, taking prescribed medicine, getting necessary medical treatments, and more may be required.
Overexaggerating Or Downplaying An Injury
Be honest about your injury. If your doctor sees that you are exaggerating, this can jeopardize your workers' compensation claim. Additionally, if you aren't telling your doctor how badly you were injured and the extent of your pain, they may not recognize these problems. You should tell them about your condition so they can properly diagnose your medical issue.
Returning To Work Too Soon Or Not At All
If you return to work too soon, it can take longer for you to recover. While this may help the insurer save money, this will make it difficult for you to heal. Don't allow your employer to pressure you to return to work.
Not Getting Help From An Attorney
Speak to an attorney about your work-related injuries before submitting your claim. Atlanta workers' compensation attorneys will help guide you through the process. They will build your case for your work-related injury and also review any paperwork before you submit it so that you receive maximum benefits. If you have to undergo the appeal process because you were denied or didn't receive a fair amount, they will not only prepare your application but also represent you before the appellate board.
Speak To A Proven Atlanta Workers' Compensation Law Firm
Find out how our law firm can help you obtain maximum financial compensation in Atlanta, GA. Your Atlanta workers' compensation lawyer will direct you on how the process works and protect you from getting denied. They protect you from complying with an unfair settlement agreement created by your employer's workers' compensation insurance company. Call Hansford McDaniel Law Firm today for a free consultation.
What Our Clients Say
"Nate and team run a top shelf operation! Compared several, nothing compares."
-Derek Anderson
"Highly recommended for anyone injured. My first experience with an attorney. I had no idea what to expect. Now, after a year Nate and the entire support staff feel like family! I'm so glad I chose the Hansford McDaniel Law Firm!"
-Ken L
"I was very happy with the time frame and the service, couldn't have asked for any better. 5 stars!"
-Jimmy W
"You can trust Nate Hansford for your Worker's Compensation needs. I refer my injury clients to Nate for Worker's Comp. claims while I work on our clients third-party claims against negligent defendants. My clients are in good hands with Nate."
-Blade Thompson (BLADE INJURY LAW)
"What a great guy. He was patient with me. Answed all my questions in a timely manner. Well with brain trama you are confused. And Nate made it really simple and understandable. Thanks to you and your crew I'll be closing on a house very soon."
-Sean Lemmond
"[My attorneys] were always a call away to answer any questions I had about my case. Thank you for your support during the most painful times, you were patient and available when needed."
-Leslie B
"My experience at Hansford McDaniel Law Firm was a good one. My case was unusual and complicated in my opinion, but they helped me out when I had no one else to turn to. My results were better than I expected and I am very happy with the outcome. I would highly recommend [my attorney] at the Hansford McDaniel Law Firm to anyone I know that may have the same situation arise."
-Christopher M
"Attorney Wesley Burton McDaniel is the best Attorney I have ever seen in long time. I have talked with many attorneys; none can compare to him. He took out time to listen to me and my wife, not only that, but he also sees us as human, which I notice many people doesn't do. He even thinks about my future, wanted to know what our next plan will be as result of the accident.He is very approachable."
-Former Client
"Thank you Gloria and Elizabeth for all the professional help. You guys served justice cause it wasn't fair that this happened to me. I'm still suffering jaw problems. Thanks again and I highly recommend you guys. I'll get the word out. Thank you so much"
-Former Client
"I have been most fortunate and pleased with the way Dulce has responded to my inquiries about my case. She is prompt and helpful. I am sure she will be a great asset to you and your firm. You should be happy to have her aboard."
-Former Client
"Team run a top shelf operation!"
"After a year Nate and the entire support staff feel like family!"
"5 stars!"
"My clients are in good hands with Nate."
"And Nate made it really simple and understandable."
""
""
""
""
""
Our Locations
At Hansford McDaniel LLC, we proudly represent clients from all over Georgia and throughout Alabama.