Getting injured at work can be a major dilemma and cause many unpleasant life changes. If you are unable to work because of an unexpected workplace injury, you may have to stay home and lose wages. Receiving fewer wages can make it difficult to pay for medical bills. Before filing a claim with your employer, allow an attorney to review your case and inform you of how much you should receive in workplace benefits.
This can protect you from receiving less than you are owed, and prevent denials. Do not waste time going through the workers' comp process with the risk of being declined. Allow a workers' compensation lawyer to help you obtain maximum benefits from your employers' workers' comp insurer. Find out more today and contact Hansford McDaniel Law Firm for a free consultation.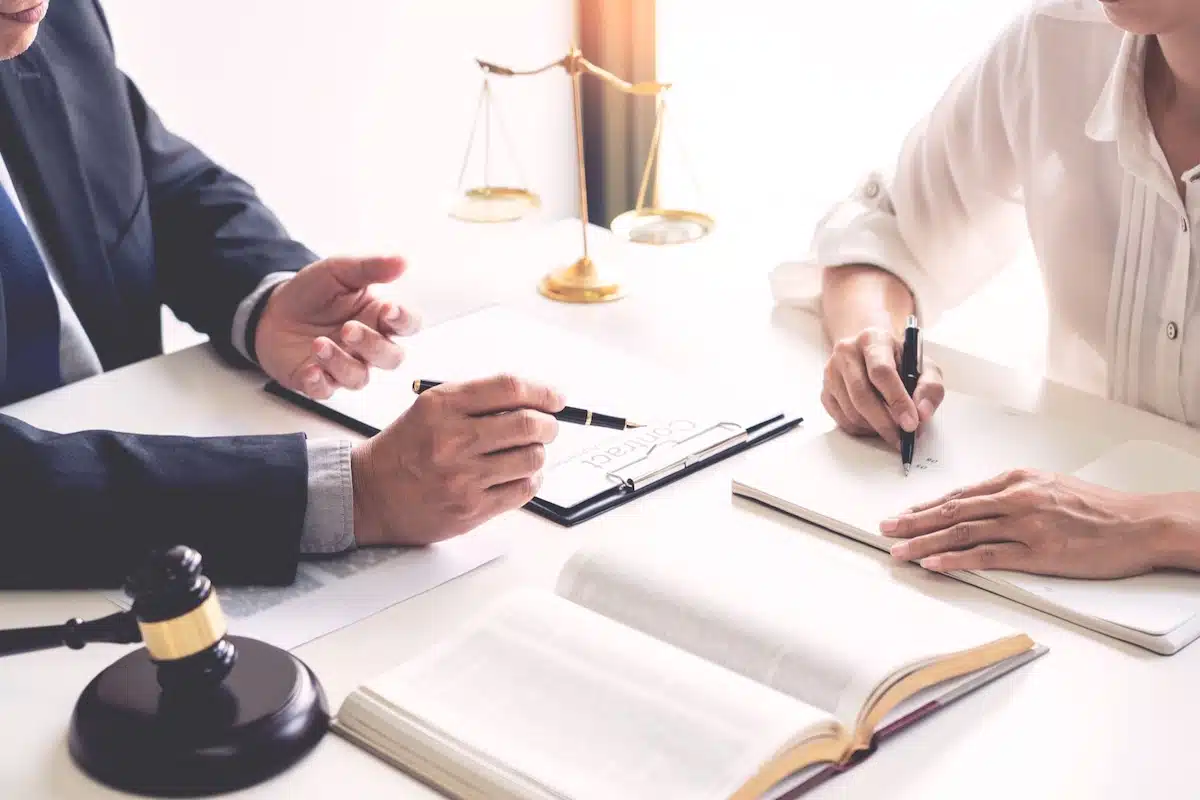 How a Workers' Compensation Lawyer in Macon Can Help You
Having an experienced Macon workers' compensation attorney working for you could make all the difference in the outcome of your case. After suffering an on-the-job injury, the last thing you should have to worry about is how you will cover your regular monthly expenses while you are out of work. You should be able to focus on recuperating from your injuries. Unfortunately, without your standard pay rate, it may be difficult or impossible for you to continue providing for yourself or your family.
For this reason, it may be in your best interests to contact our team at Hansford McDaniel Law Firm. Our workers' comp lawyers focus exclusively on workers' comp claims. Our attorneys have extensive experience and in-depth knowledge of how workers' comp. works in Georgia. You will need this experience on your side if the insurance company denies you the benefits that are rightfully yours.
Some of the best attributes of the Hansford McDaniel Law Firm include:
Multiple million-dollar workers' comp claim resolutions
Over 45 years of legal experience
An impressive 10.0 superb Avvo rating
Access to English and Spanish-speaking legal representation
Attorneys McDaniel and Hansford were selected for inclusion in Super Lawyers® Rising Stars℠
What Are the Workers' Compensation Laws in Georgia?
It is essential to understand how Georgia's workers' compensation laws work if you hope to recover the benefits that are rightfully yours. Any business that employs three or more staff members must carry workers' comp protection coverage. This insurance protection needs to extend to every employee. This includes:
Full-time employees
Part-time employees
Seasonal employees
Temporary employees
It is important to note that workers' comp protection coverage does not generally extend to independent contractors. If you are an independent contractor who suffers an on-the-job injury, your client's workers' comp protection coverage would not generally extend to you. However, you can purchase personal workers' compensation protection coverage in the event of a work-related accident. Then, if you suffered an on-the-job injury, you can file a claim with your workers' comp protection provider.
Many employees have concerns that they must have been working for their employer for a minimum of 90 days or work a minimum number of hours each week. However, from the first day of your employment, as long as you are considered a team member and formal employee, your employer's workers' comp. coverage should extend to you.
If your employer does not carry workers' comp. protection coverage, you have the option to file a third-party liability claim against them to recover the compensation and benefits you deserve. They could also face sanctions from the Georgia State Board of Workers Compensation.
How Much Does Workers' Compensation Pay in Macon, Georgia?
Workers' compensation typically pays 66 ⅔ of your weekly wages up to a maximum of $725 per week. Workers' comp disability benefits include the following:
Temporary Partial Disability
You could receive partial disability benefits if you are able to return to work but cannot work to full capacity. When you take on a role that pays less, you can continue to receive weekly benefits for no more than 350 weeks. The benefits are paid as two-thirds of your average weekly wage and go up to a maximum of $483.00.
Temporary Total Disability
When you have to stay home because of your injuries, you will be unable to work at all. Instead, you will receive 66 ⅔ of the average wages that you received for the 13 weeks prior to the time of your injury. The maximum of this benefit is $725 per week.
Permanent Partial Disability
These disability benefits are owed if assigned a permanent impairment rating. Each body part is assigned a certain number of weeks and, depending upon your rating of each body part, you will receive additional weeks of disability benefits based on your weekly compensation rate.
Catastrophic Disability
You can also receive disability benefits that continue for the rest of your life if your claim is deemed catastrophic. These long-term benefits continue past the 400-week maximum limit.
Death Benefits
If you are a spouse or dependent of an employee who passed away, you can also receive workers' compensation benefits. Spouses can receive up to $270,000 in compensation for death benefits. Dependents can receive up to $725 a week in compensation.
Medical Benefits
Another benefit you get from your workers' comp claim is total coverage of your medical expenses. When you suffer a work-related injury, you should never be forced to absorb the costs of your related medical treatment and care.
Instead, your employer's workers' comp provider should cover your expenses in full. Some examples of costs you should rely on the insurance company to cover include:
Transportation costs to and from your healthcare providers
Co-pays
Costs of over-the-counter drugs or prescription medications
Wheelchairs, prosthetic limbs, and other necessary medical equipment or devices
Installing shower rails, building wheelchair ramps, and making other home accommodations
Costs of mental health counseling, physical therapy, and occupational therapy
Ongoing medical treatment and care
Surgical interventions, including reconstructive surgery
Costs of any future medical expenses
Vocational Rehabilitation Benefits
When your work-related injuries prevent you from being able to go back to work in the same industry, it is essential to access the vocational rehabilitation benefits you are entitled to. Although not every injured worker is entitled to vocational rehabilitation benefits, the insurance company must cover these costs when you meet the eligibility requirements.
The insurance company will cover any job training or educational responsibilities you take on so you can find gainful employment and re-enter the workforce. This way, you do not need to cover the expenses out of your pocket with a reduced or limited income.
What to Do When Filing A Workers' Comp Claim in Macon
Immediately following an injury, you should take these steps to ensure you receive your injured worker benefits on time:
Take Photos
Taking pictures of your injury and the place you were harmed will help build evidence for your workers' comp claim. You should take photos of any tools or equipment involved with your injury. Show the area of the workplace facility that you were injured in as well.
Report To Your Employer
In Georgia, you have one year to file a workers' comp claim, but only 30 days to notify your employer. Waiting too long can make you ineligible for workers' compensation benefits. Your employer will begin the claim process with you.
Get Medical Help
You will be assigned to an authorized treating doctor to help address all of your injuries. Your doctor may issue imaging scans, lab tests, physical examinations, and other assessments to determine the severity of your injuries and treatment plan.
Speak To An Attorney
After you have an idea of what injuries you have sustained, speak to Macon workers' compensation lawyers. Your workers' compensation lawyer will determine how much you should receive in benefits. This prevents you from accepting an award less than what you are entitled to. This allows for an easier recovery from serious injuries.
If Necessary, File An Appeal
If your employer's insurer denies your claim, you can continue to fight for benefits. Macon workers' compensation attorneys can guide you through the appeal process, so you receive a fair amount. You can file an appeal with the Georgia State Board Of Workers' Compensation to have your case reviewed by a judge.
Reasons You Could Be Denied Benefits
When your workers' comp claim is denied, it can be for several reasons. Some of these include the following:
Missing Information
Many workers' comp benefits are denied or reduced due to missing information. For example, contact information that is missing or incomplete can prevent an insurer from requesting additional documents. Other examples include failure to mention how extensive your pain was to your physician or failure to report all of your injuries. These are just some of the ways you may not receive all of your benefits.
Lack Of Evidence Or Unknown Cause
If you were injured but cannot prove your employer is liable, you may be denied for workers' compensation. If the insurance company's investigation cannot determine if your injury occurred at work, they may deny your claim.
Not Complying With Your Doctor
It is required to follow your doctor's recommendations to prevent your condition from worsening. Any medical treatments, prescription medicine, or other requirements must be met. If you ignore your doctor's recommendations, it can result in denial of your workers' benefits.
Insurance Company Disagreement
Your employer's insurer may decline your benefits in the interest of cutting costs. If they are being unfair, work with a workers' compensation lawyer and file an appeal to ensure you receive the correct amount.
You Are Not An Employee
If you are an independent contractor, sole proprietor, or volunteer, you may not be eligible for workers' comp benefits.
Unlawful Activity
You can be denied benefits on the grounds you were involved in illegal activity of any form. For example, if you were assaulting someone or attempting to steal, these could be reasons you are denied. Another form of illegal activity is going to work while under the influence of illicit drugs. If you were drunk while you were injured, this can also result in denial.
What to Do if Your Macon Workers' Comp Claim is Denied
Do not be surprised or disappointed if your workers' comp claim in Macon is initially denied. This is a common occurrence in workers' comp insurance claims. Insurance companies lose money by paying out on claims, so you can expect them to take whatever steps they must to reduce their financial losses.
Fortunately, getting denials overturned is often easier than many work injury victims realize. With help from your workers' comp lawyer, you can review your claim denial to determine why the insurance company denied your claim. In many cases, by providing the insurer with additional information to prove you meet the eligibility requirements, you can get a denial overturned.
However, if your attorney continues to negotiate with the insurance company and they continue to deny you the benefits you deserve, your lawyer may consider pursuing legal action against them. If the insurance company is handling your claim in bad faith by misrepresenting the policy terms, delaying the processing of your claim, or otherwise taking advantage of you, your workers' comp attorney at Hansford McDaniel Law Firm will ensure they are held accountable so you can access the benefits you need to rebuild your life.
Macon Workers' Comp FAQs
Your attorney can guide you throughout the workers' comp process to ensure you get paid correctly.
How much do workers' comp lawyers charge in Georgia?
In Georgia, attorneys can only receive 25% of your workers' comp award. This amount is not paid upfront but is provided after receiving an award or settlement for workplace injuries.
How long does it take to get a workers' comp settlement check in GA?
Every workers' comp claim is different, and receiving benefits can range from thirty days to over a year. Your workers' comp claim must be investigated and reviewed by your employer's insurance company initially.
The process can take weeks and even months if a deeper investigation is required to discover how the accident happened. If the case requires other professional opinions, this can extend the process. A doctor also must review your injuries. Some injuries may require additional opinions from specialized doctors.
The time for receiving workers' comp can also be lengthened if you undergo the appeal process. You would be required to attend a pre-mediation meeting and a hearing. The judge would review your case, requiring your Macon workers' compensation lawyer and other involved parties to undergo the process.
Can you sue your employer for negligence in GA?
Georgia is one of the few states where you are not required to prove your employer's negligence to receive compensation benefits. You will not be required to sue for a settlement. You only need to file a lawsuit if you experienced an injury because of a third party.
How long do you have to file a workers' compensation claim in Macon?
Time is limited to file a workers' compensation claim in Georgia. According to the Georgia State Board of Worker's Compensation, claims must be filed within one year of the accident. This may seem like more than enough time to pursue your case, but when you are recuperating from debilitating injuries and trying to stay financially afloat, filing a claim for workers' comp. may not be at the top of your priority list.
However, as soon as you have a workers' compensation attorney advocating for you, you can file your claim and avoid being barred from recovering the compensation and benefits you would have otherwise been entitled to.
Contact Your Macon Workers' Comp Attorney for Help Today
You can receive a variety of other workers' compensation benefits. Medical benefits, funeral benefits, mileage reimbursement, and vocational rehabilitation are other benefits you can receive from your award. Find out how much you are owed in compensation by allowing a workers' compensation attorney to review your case.
They can notify you exactly how much you deserve after investigating your accident. With their assistance, you can receive the correct amount. For a free consultation, contact our team at Hansford McDaniel Law Firm to learn more about your particular case.
Our Locations
At Hansford McDaniel LLC, we proudly represent clients from all over Georgia and throughout Alabama.